Last year, Google quietly rolled out a privacy featured labelled "Consent mode" which can drastically change the way you collect your analytics and ads tracking data.
What is Consent Mode? In a nutshell, Consent Mode is a framework that allows you to adjust your tracking tags based off whether or not your users allow you to track them through your properties. This framework is compatible with both opt-in (users have to explicitly say "yes" to tracking) and opt-out (users are tracked by default and can say "no").
This framework is still in beta, however it lines up well with privacy directives such as GDPR (General Data Protection Regulation) which governs how online entities need to treat the personal data they are collecting.
Consent mode deals with Data Storage, so it won't be blocking actual requests from coming through. This lines up with the GDPR requirements that information not be stored without permission or able to be associated with an individual's identity.
What happens when it's on?
When implemented, Consent Mode allows you to have control over 2 tracking properties: ad storage & analytics. It's up to the website though to govern and manage how to collect consent states.
For example, let's say a user arrives on your website and you show them a cookie tracking acceptance pop up. With consent mode, all your tracking tags will be able to respond accordingly to the decision that user makes. In a standard "opt-out" model, if the user clicks "accept" or closes the box all your tracking will continue as it always does. However, if they decline then consent mode will automatically adjust your tags to ensure personally identifiable information isn't collected.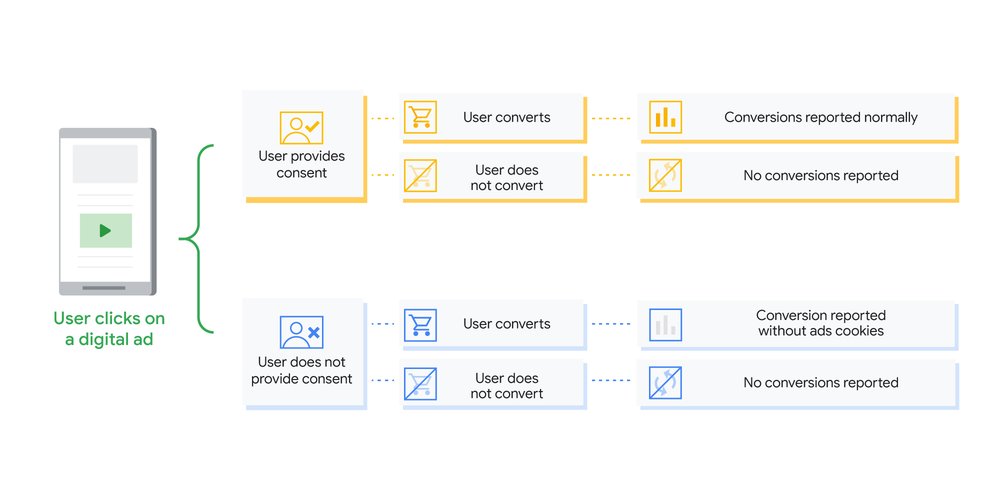 If a user doesn't give consent, does it mean I lose all my tracking?
In short, you won't lose all your tracking in consent mode. You would lose tracking information that's related to your ad network, making it harder to track ad follow up efforts.
If ad data storage collection is denied, you won't be able to create new advertising cookies on the user's browser and you'll be denied access to reading any first party cookies that are already existing. Ad-click information may be collected, but only for approximate traffic measurement. Furthermore, IP Addresses will only be used for country of origin approximation, but won't be logged by Google Ads or Floodlight as they'll be deleted immediately.
If analytics storage collection is denied you won't be able to read or write first party analytics cookies, and cookieless pings will be sent to Google Analytics for basic measurement purposes.
Do I just need to turn consent mode on?
The key thing to note about Consent Mode is it's a way to adjust your existing Google Tag configurations, not a method of managing your consent states for your users.
To effectively deliver and manage privacy states on your website, you may need to turn to Consent Management Platforms to properly handle your user's consent statuses.
If you're a Hubspot user, you'll be pleased to know they've been rolling out GDPR and Privacy features to the platform to make it easier for their users to collect and manage user consent & data. Hubspot's update to the user consent tracking makes it easy to display an opt in/out modal and the relevant policies to each type of tracking you use:
Consent Mode is still in Beta
Google is still testing and improving the consent mode features, so it's likely to change drastically throughout the year (and hopefully not end up in the Google Graveyard).
---
With online privacy becoming more prevalent nowadays, and major companies like Apple taking a firm stance on user privacy, it's important we move with the tide and prepare our analytics systems to handle the next wave of data tracking online.
This update is an absolute win for consumer privacy and although systems like Consent Mode may make it harder to track and retarget using ads, it's important that we as marketers strategise better ways to reach out to users. Better that than throwing a tantrum over better user privacy (*cough* facebook *cough*)